CDB, Home Credit China and FOTIC have signed the agreement of 'Retail Consumers Loan Transfer and Cooperation' in Shenzhen, which brings a new, enhanced platform for further consumer finance development in China. Mr. Chen Yingchun, Shenzhen Municipal Committee member and City Vice-Mayor, Mr. Li Jiping, Vice President of CDB Headquarters, Mr. Yu Xiaoping, CDB Shenzhen Branch President, Mr. Yang Zili, Fotic General Manager, Mr. Tomas Kocka, Home Credit China´s President and Mr. Miro Kolesar, Chief Representative of PPF Group in China and other VIP guests attended the signing ceremony.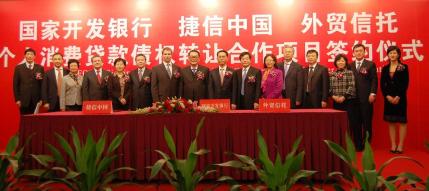 As China authorities started to purposely focus on strengthening the local households demand, an important driver for national economy growth, consumer finance industry is getting on the rise bringing the modern financial services to support Chinese individuals purchases. 'Taking a loan while shopping' becomes a new phenomenon in several provinces. Such a basic consumer finance product, being called 'point-of-sales loan' is very popular in the most matured markets both in Europe and the United States.
'Home Credit' a leading consumer finance brand is the trademark used in eight different countries including China by PPF Group N.V., the largest financial and investment group in the Central and Eastern Europe. Home Credit companies are leading consumer finance specialists that successfully aspire to the top market positions wherever they operate, for example in Russia, Czech Republic, Slovakia, Belarus or Vietnam. Home Credit China is currently developing internationally established consumer finance franchise in Chinese market. China has become one of the top priorities for PPF Group globally.
Headquartered in Shenzhen, Home Credit China successfully breaks the traditional local pattern of a long loan application process. Based on its vast international consumer finance experience and advanced know-how and reliable IT support, Home Credit can offer a consumer loan in some 30-60 minutes to the majority of ordinary consumers in the store. For example, if a product price exceeds customer´s monthly income or savings, he/she can apply for a consumer loan in of some RMB 1,000 to RMB 5,000 in the shop and will most likely get it as long as he/she has a stable income and fulfils other approval conditions.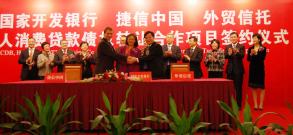 Since the start of a productive cooperation between Home Credit China and FOTIC in 2008, Home Credit China has established its operations in Shenzhen, Tianjin, GD province and Sichuan Province and enjoyed vast interests from consumers. Home Credit China is currently cooperating with over 800 retailers and provides services at more than 1,600 point of sales ('POS'). The joint cooperation of CDB, Home Credit China and FOTIC will promote a fast-paced development of consumer finance in China. Through a long-term, stable strategic partnership among the three parties, and especially thanks to funding advantages of CDB, advanced technical support and business experience of Home Credit China, and well-established capital management of Fotic, the consumer finance industry opens a new chapter of individuals' consumption support in China.